Someone recently asked me what my favorite kitchen appliance was and for some reason, I drew a blank. I have a lot of favorites, but my kitchen is small, so I keep my appliances to the essential, multitasking ones. Which one do I like the best? hmmm…
I narrowed my choice down to five. I understand that different appliances would be chosen by different folks, but these are certainly ones that I use heavily, if not daily.
1.Top of my list: An emulsifying blender. I use this daily. I usually make a foamy Oolong and Macha tea blend for breakfast. If I choose an occasional cup of coffee instead, I can easily turn a cup into bulletproof coffee with the stick blender. This little machine also makes mayonnaise, lemon butter, hollandaise easily. It is great to cream a pot of soup on the stovetop too. If gravy gets lumps…walla…the blender will smooth it out! Dishwasher safe and easy to clean compared to the stand up blender and food processor. Yes-love it.
2. I choose my Keurig coffee maker second because it is an item I use several times a day. It can heat a cup of water in less than a minute for my morning tea, and makes a cup of coffee just as quick. If I am having a larger group over, I do use my teapot on the stove for water, but for small gatherings is is nice to have an easy way for guest to have tea of coffee. No one feels they are putting me to any trouble when I just push a button. I like that the Keurig is simple enough for my three year-old to make me a cup of coffee too!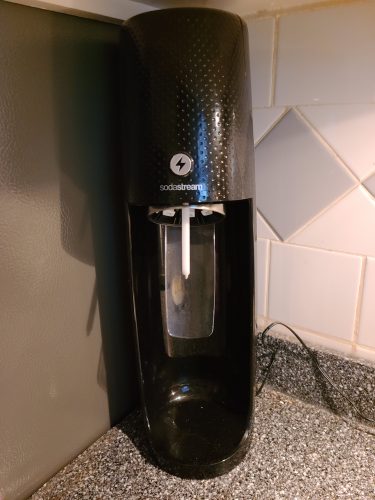 3. My soda stream is another favorite kitchen appliance. My husband bought it for me one year with our income tax return. I am a huge fan of carbonation and find just a jug of carbonated H2O is far easier to enjoy than plain water. Just writing about it, makes me need to go get a tall glass of bubbly water! Be right back….
a minute later and hydrated…. Yes, love the soda stream. I go through a canister a month which is about $15 a can once my empty can is returned. I think that is a lot cheaper and environmentally friendly than buying a steady stream of bottles and cans of pre-flavored and carbonated water. I tons make healthy drinks for myself and the children with this machine I mix natural extracts, stevia, and even natural food colorings to make incredible healthy drinks. My favorite is to make sparkling lemon/lime with fresh squeezed lemons and limes and stevia. Yes, I am a Soda Stream enthusiast.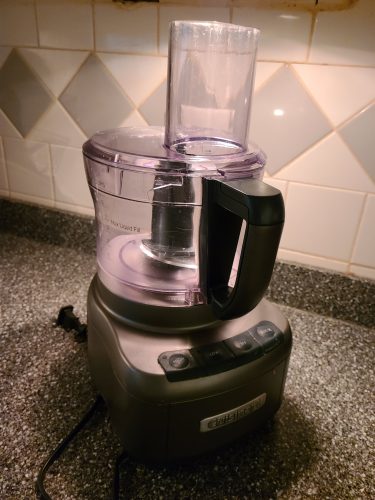 4. I will go with my food processor for fourth. I lived without one of these until rather recently when my husband gave me one for Christmas a few years back. I now wonder why I didn't have one much earlier than then.
Since I am careful with our grocery budget, that means everything I buy comes unprepared…blocks of cheese…whole veggies…unwashed…un-chopped…unprepped food is what I bring home from the grocery store. I can shred all my cheese in five minutes with the cheese shredder on this gadget. I can make zucchini noodles and freeze them. I can slice carrots, cucumber, and dice onions in seconds. For my sauerkraut marathon, a food processor is indispensable as I shred head after head of cabbage. I also use the food processor to make my own hand lotions and creams. Recently I have made batch after batch of salsa! Dump all the ingredients in and run and done!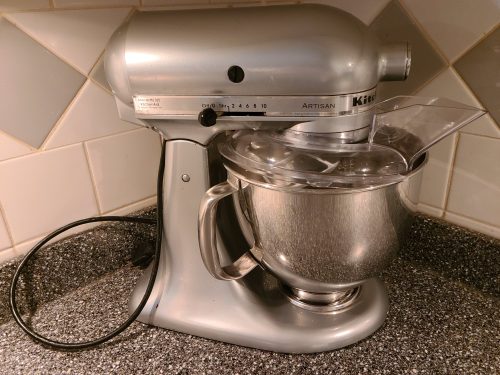 5. This Kitchen Aid stand mixer was my Christmas gift from my husband our first year of marriage. At the time, I had absolutely no idea what I was getting. Once I learned to make my own whole wheat bread…well…let's just say, I don't mix anything by hand and I don't knead bread by hand. Judge me if you will, but this machine does an incredible job with all those things. In fact, I am convinced that it is key in making the best chocolate chip cookies. And the time is saves me kneading bread….I just wouldn't have time to make bread without it. I calculated that from start to finish of mixing and kneading three loaves…twelve minutes with my Kitchen Aid doing all the work.
My five favorite appliances! I was amused to see how many my husband had given me. I don't be-grudge getting appliances as gifts ever, considering the amount of time they have given me to be with my family and do other things. And well, I am a home-making nerd tools for the kitchen home are very much my niche.