I use toner rather unfaithfully. It is more as an "as needed" product for me. But it could be used on a daily basis. I keep vinegar rose toner as one of my on hand as part of my homemade skincare products. As I age, I am getting a few sun-spots, and find regular use of this toner helps lighten them. I tend to use vinegar rose toner most in the summer when I notice more oil and skin discolorations. It also brightens and tightens my skin.
Rosewater: Helps to reduce skin inflammation and aid in healing. It heals acne quickly, and helps prevent it by purifying the skin's pores. Rosewater contains antibacterial components that aid in healing and preventing scarring. It is also a great tonic for aging skin because it slows free-radical damage. I also use rosewater in making cold cream.
Apple Cider Vinegar: I add a little to the rosewater to boost the antifungal/viral components of the toner. It has many of the same benefits of rosewater, but is too harsh to be applied directly to the skin on the face. It does help lighten and brighten skin, so is helpful in evening a complection. It can be left out of the toner if desired.
Vitamin C: Since we all get sun, vitamin C is essential to help skin resist the damaging effects of ultraviolet radiation. It is more important to eat vitamin C rich foods than to put C on the skin. But a little C can be absorbed into the skin if the PH is low enough. Since the vinegar and rose are low PH, I add a tiny bit of vitamin C crystals to the toner.
This toner is incredibly easy to make. I only use three ingredients:
Apple Cider vinegar, Rosewater, and vitamin C crystals.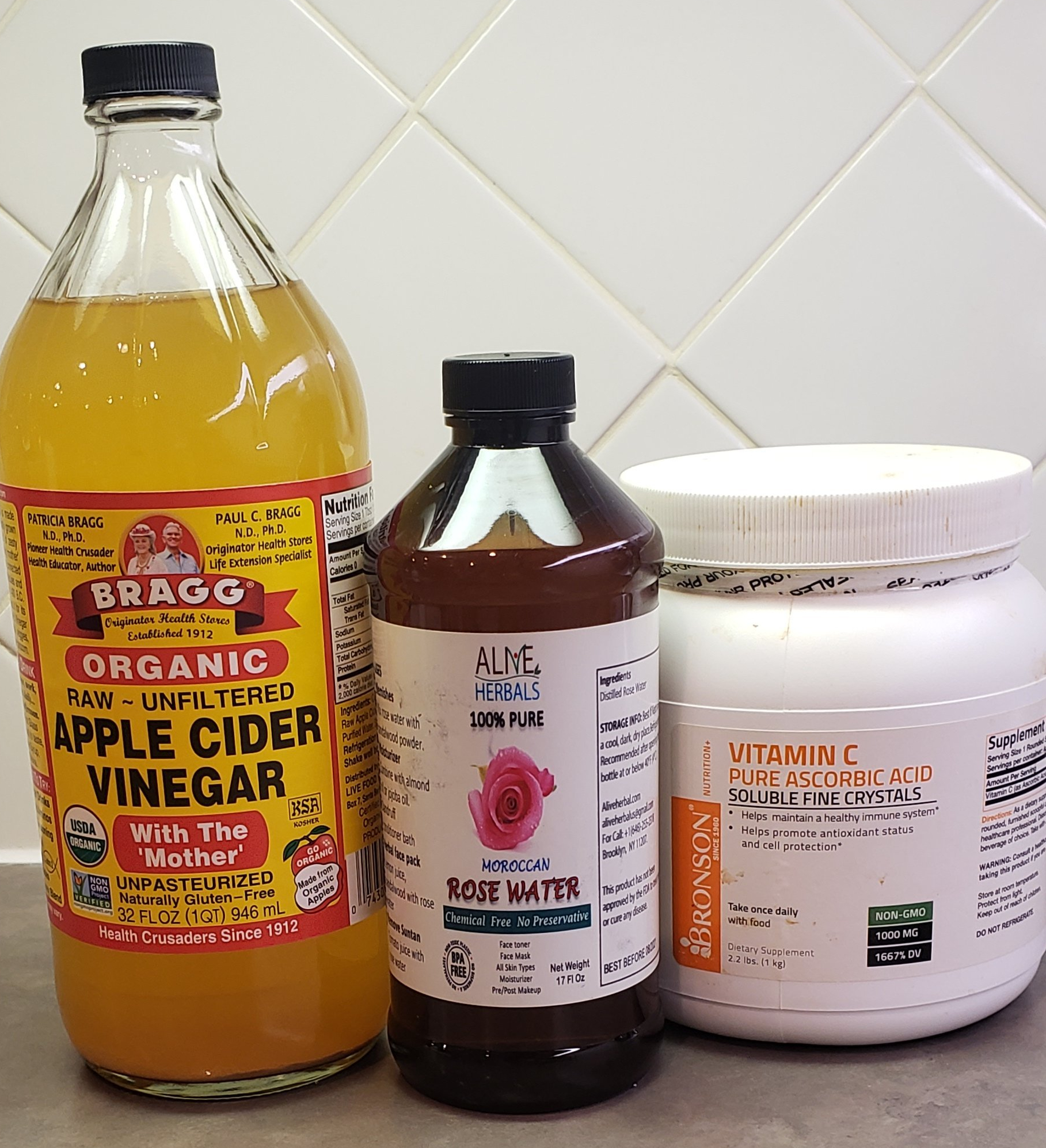 To Make:
3/4 cup rosewater
2 t. apple cider vinegar
1/2 t. vitamin C crystals
Mix it up until the crystals dissolve.
To Use:
Dab a bit on a cotton ball and sponge on a clean face. Follow with a moisturizer.