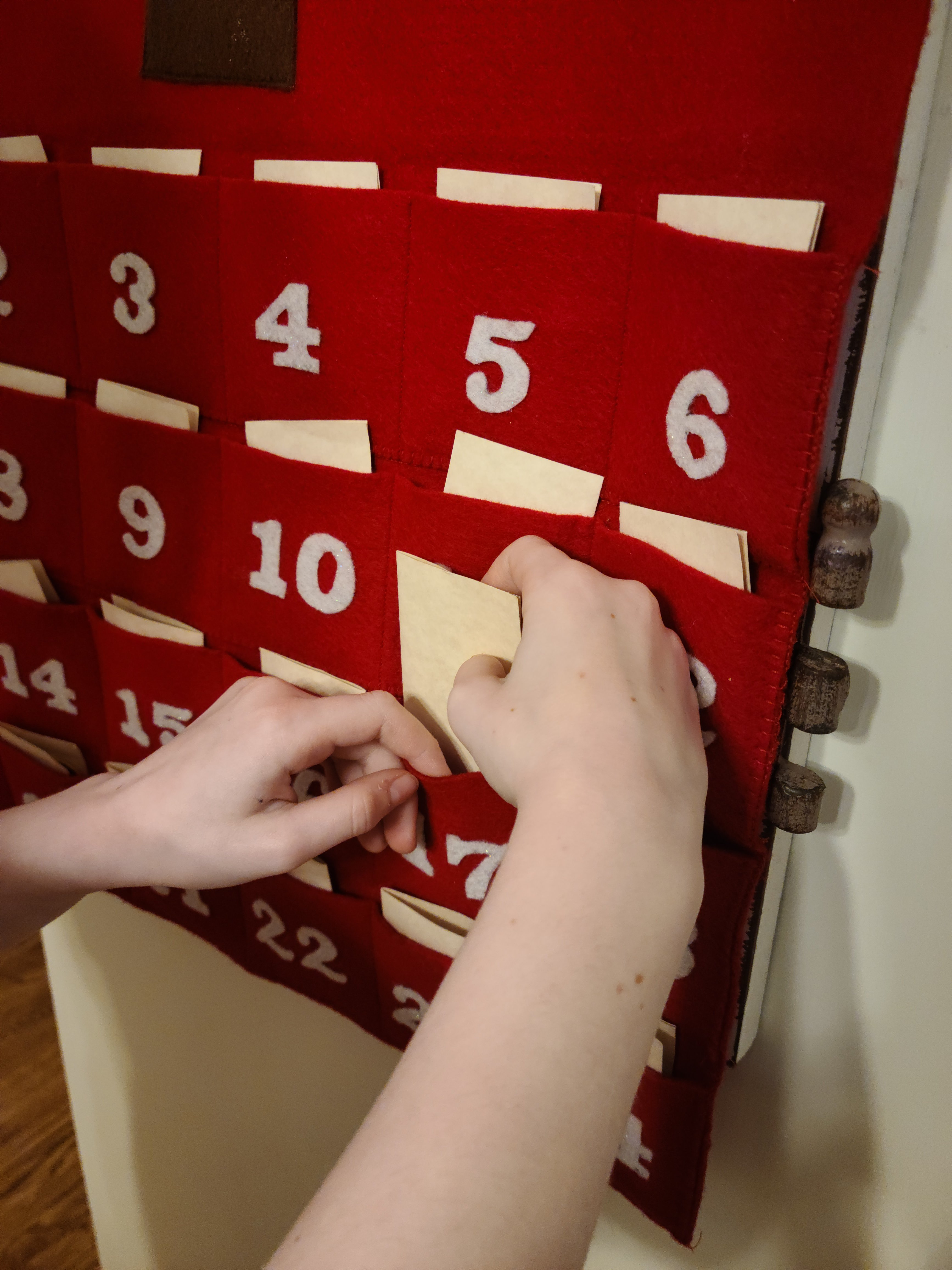 Every year, I find myself re-evaluating how are family practices the Advent season. One might say I am on a mission to make it a deeper and more meaningful celebration each year. I am vigilant to see that the reason we celebrate this season does not get misplaced among the wrapping paper, Christmas cards, and cookies.
Materialism is a struggle for most Christians in the United States. We all are considered "rich" by much of the world's population. Yet, in our minds, we are not, as we barely make ends meet each month, drowning in puddles of debt and desire.
Other than income tax returns, Christmas can be one of the most materialistic events of the year. I do not want my children to love Christmas because of what toy they are hoping to own by the end of the day. Priceless, eternal moments will be forever lost if that becomes the case.
I want our celebration of this Advent season to be a process of traditions that set our hearts to praise to our Father and stand in awe at the incarnation of our Savior. Our omnipotent God putting Himself in a human body! What an event worth a grand celebration by all of us who partake of the extreme grace that brought Him here!
I deeply embrace celebrating Christmas because of what that moment in time signifies to us under the law of grace. I do desire it to be an exciting and anticipated season in my life and in the lives of my family! I want it to be a time we set aside to reflect and rejoice. Our King has come to earth! It is certainly no small deal.
I am further motivated in my resolve to magnify this season by creating pointed traditions and practices as I study Scripture. Leviticus 23 has been particularly inspirational to me this year. Leviticus describes in detail feasts and sacred days ordained long ago by God for His people.
Feasting is a Biblical form of remembrance and worship: Leviticus 23 describes seven holy seasons that the Israelites were to keep. God wanted them to set aside those specific days or even weeks to reflect on Him in a certain way.
The first sacred day listed in Leviticus 23 is the Sabbath. The second, is Passover. There is also the Feast of Firstfruits, Feast of Weeks, Feast of Trumpets, Day of Atonement, and the Feast of Booths. Other days have been added to the Jewish holidays since then, such as Purim as a result of Esther's faith.
Each one of those sacred days is for a multi-faceted purpose. First, there is a human need to holding sacred days as part of building and proclaiming our faith. Days to celebrate important events in our faith helps us, ever so forgetful souls, to remember the God we worship as we spend time in celebrating a specific aspect of Him, such as God the Creator, God the Redeemer, or God the Provider.
Second, holy days mark ones faith not only to his or her own heart, but serves as a testimony to other's of the faith held true. As Christians, our holy days are especially sweet guideposts as we celebrate events that are valuable to our faith-in particular the gospel, those set-apart days remind us of the unearthly kingdom of which we partake. How beautifully days such as Christmas proclaim that our kingdom is of another realm and the events that mark that realm supersede the world we dwell in now.
Third, Holy days help us to spend time to ponder and focus on different aspects of God. For instance, in our celebration of His incarnation we are reminded of the value of the gospel and the longing for its coming. Our hearts are also brought into worship of God as we amaze our souls with specific aspects of His grace.
Fourth, there is an amazing connection many of those ancient feasts have to the gospel. The Passover is incredible illustration. Jewish people have had the gospel plugged into their calendars since they left Egypt! Every holy-day we celebrate as Christians is pertinent to the gospel. At Christmas, we can revel in the fact that the gospel has come. Good Friday and Easter bring us to rejoice in the precious blood that covers us.
Traditions are a Biblical form of remembrance and worship: Back in Leviticus, it is clear that many specific traditions are given by God for the celebration of each feast. Often "rest" is noted as part of the feast. Specific foods are also required at each feast. Offerings are seem to be a regular part of the festivities as well. The feast days were meant to be different than other days, they are special…set apart…holy.
Traditions have long been a part of Jewish culture, but tradition is a very simple way for us humans to celebrate on purpose and with order. Traditions help guide us into faithfulness. They are not evil, despite the bad rapport they get of causing us to become mindless to what is important as we thoughtlessly go through motions. Traditions of faith actually have the opposite effect, if in fact, there is yet a heartbeat within a soul.
Our church celebrates the Lord's supper every time we meet for worship. It is a tradition. Yes, it can be said that the frequency of sharing the Lord's supper weekly can make it mundane and common instead of the sweet and savored moment it is. But truly, traditions that relate to ones faith can only be taken for granted if the heart of a person has already become neutral to it. The tradition is not at fault for a person's lack of heart. Truly if a soul is filled with praise and love of God, such a tradition as the Lord's supper is never in danger of becoming dull, but will be met with depth of heart and worship week after week.
Traditions are essential to the upkeep of our faith and can be pointedly powerful to stir our hearts in worship to God for the Great things He has done! Traditions are not a man made part of life and celebrations, but a God ordained necessity to the thriving of our souls and purposeful exultation of God.
Christ's Birth is a major Biblical Event well worth our time to Celebrate. A previous post, Reclaiming Christmas, discusses more in depth with reflections on the book of Luke. Christmas is an incredible joyous event. And like little unborn John, we ought to leap as our souls ponder the incarnation of God.
Most Christians are not of Jewish blood and do not hold to the Jewish calendar of feasts. IN fact other than the Lord's supper, very few traditions of the Christian faith are held. Even Christmas is often kept more as a family holiday that a sacred holy day.
As I find myself in growing awe of the grace poured out on my soul. I have been challenged year after year that the celebration of Christmas in our home should be more of a sacred event than a holiday filled with empty traditions. I am learning how to use the foods we eat, the gifts we give, the fellowship we hold, and the rest we have as an act of worship and rejoicing. I also seek to add wonderful advent readings and traditions year after year.
Christ's incarnation is certainly an event we should purpose to celebrate daily, and even as a season we set aside to build MEANINGFUL traditions that could include worship in songs, Scripture readings, candles, advent calendars, rest from regular work, special foods and offerings and gifts as a celebration of our fullness of what He has done.
As a caution if indeed my intent is to set aside the Christmas season solely as a holy celebration of our King's coming to earth, then I should most certainly prune out any pagan aspect of the sacred day we are creating. Nothing could downplay or be contradictory to our celebration of Christ's birth, than if I should combine our celebration with gospel contradicting, worldly traditions such as, yes I am naming one, Santa. Certainly the Israelite nation would have destroyed the depth of meaning of their sacred feasts if they chose to include traditions of the pagan people around them. I cannot assume I can keep a day sacred and blend it with elements contrary to the gospel I hold so dearly.
How I strive to build an intentional traditions for the celebration of the sacred event in time I have chosen to celebrate. Such tools as food, gifts, rest, fellowship, song, and traditions can be pointed arrows to hold my heart and the hearts of those within my circle in awe of what God has done. The end purpose being to aid souls in deeper worship of our Savior.
Christmas is after all, essentially, an incredible celebration of the coming of the gospel! Rejoice!
"She will give birth to a son, and you are to give him the name Jesus, because he will save his people from their sins" Mt. 1:21.