I give my skin a gentle, moisturizing mask and scrub about once a week. I love the deep cleansing and moisture this mask provides.
I use five basic ingredients to make honey sugar scrub.
Coconut Oil: Although coconut oil has large fatty chains, it works well as a facial mask and body scrub because it is washed off with hot water. I find the hot water breaks down the oil and opens my pores, allowing the nutrient rich oil to soak into my skin. Coconut oil fights microbes and helps prevent skin damage from pollution and bacteria. It also is rich in anti-oxidants and vitamin E which is ant-aging and nourishing for skin. It also helps reduce inflammation so dry skin, eczema, and damaged skin are helped by the components found in coconut oil.
Raw Honey: Not enough can be said about the benefits of raw honey. I have used honey as a face wash and found it firmed and healed my skin. It is antioxidant rich and a scientifically renowned healer. It smooths out complexion and slows down aging due to its moisturizing and antioxidant rich properties.
I loved how my face felt when I used plain honey as a face wash, but it was simply too sticky and messy to keep up, so I started mixing it with coconut oil in the coconut honey facial scrub. I use the thick unfiltered version. It makes a better paste than the liquid raw honey.
Sugar: I experimented with raw sugar, coconut sugar and granulated sugar. The granulated sugar is fine and works the best in this scrub. It is included solely as a gentle exfoliant.
Vitamin E: I include E in this mask simply to boost the nutrients of the mask on my skin. Coconut oil already contains vitamin E which is similar in its effects because it is has antioxidants and helps skin combat enemies like eczema, dryness, healing, psoriasis, and sun damage. I like to add a little more to give this scrub a little more oomph.
Vanilla Essential Oil: This is a rich vanilla oil, regular vanilla could be used, but the smell from the oil vanilla is far more incredible than cooking vanilla. I use it completely for its wonderful scent, but vanilla is anti-inflammatory and anti-oxidant rich as well.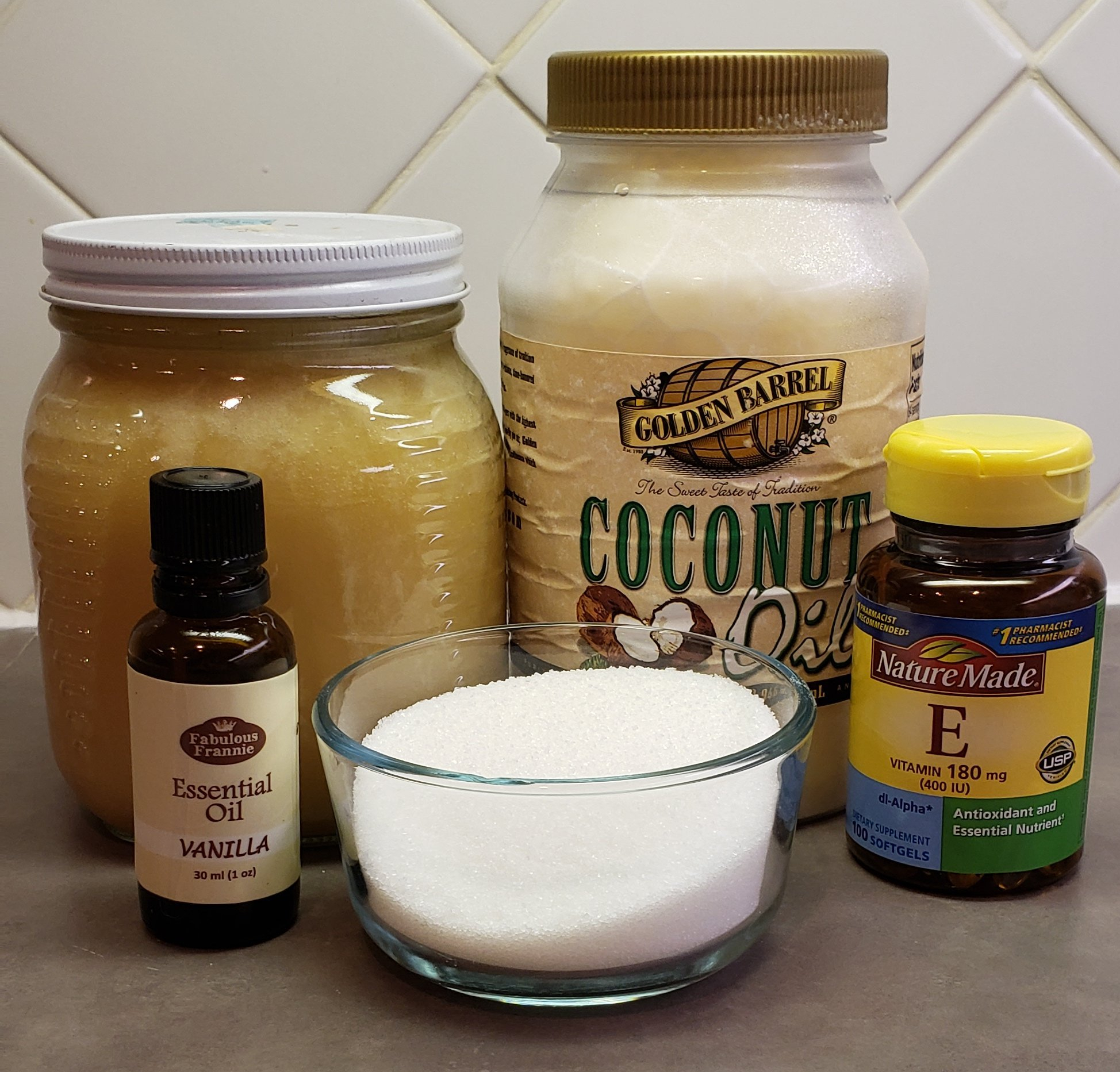 Measure:
1/2 cup coconut oil (not melted-room temp)
1/2 cup Raw honey (thick-not liquid)
1/2 cup granulated sugar
2-3 squeezed capsules of vitamin E oil (cut and squeeze in oil/liquid vitamin E can also be used)
10 drops vanilla essential oil
Whip:
Whip ingredients with a hand mixer at full speed until fluffy. If the mixture whips too long, it will melt. If that happens, chill, and re-whip once cold.
Use:
Honey sugar scrub can be used as a body scrub, foot and hand treatment, or as a facial mask and scrub. I usually rub it on my face and neck ten minutes before my morning shower and wash it off with hot water in the shower. I often follow up with vinegar rose toner and a little cold cream as part of my natural skin-care routine.